A Head Start On School Readiness
We Give Your Little Learner Space To Blossom While They Learn The Skills They Need For School And Life
A Head Start On School Readiness
We Give Your Little Learner Space To Blossom While They Learn The Skills They Need For School And Life
Preschool | 3 to 4 years | Serving Plano, TX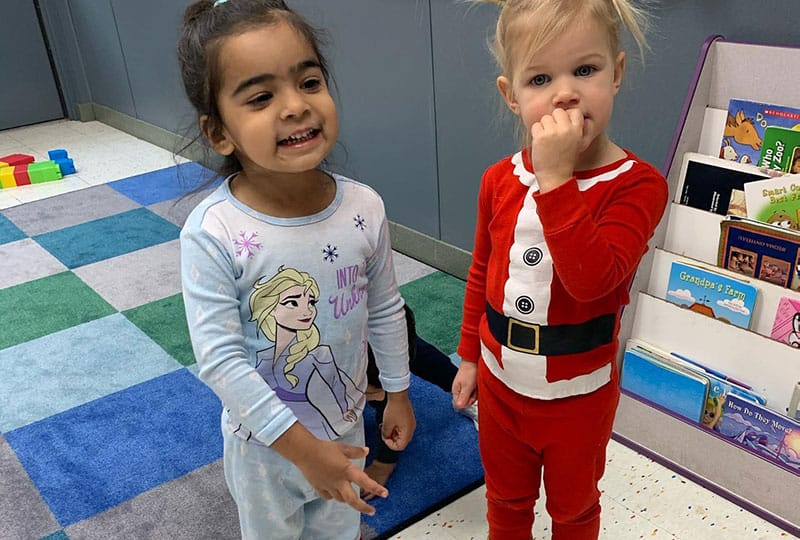 Small Class Sizes For Extra Personal Attention
Your preschooler's learning experience is enhanced by having more room and opportunities to participate in the classroom. They receive extra help with any challenges and more time to shine at what they do best.
The Brightwheel App Is Your Favorite News Feed
Browse cute photos, videos, daily reports, and more within just a few clicks on our handy mobile app. Teachers share frequent feedback with you, and you never miss a beat about your child's day.
Organic Meal Program Prepared In-House
Your child is fueled by healthy nut-free and preservative-free meals that can be customized based on their allergies or sensitivities. Everything is organic and made in-house by a chef who uses lots of fruits and veggies.
STEAM Builds A Strong Academic Foundation
Daily science, technology, engineering, art, and math activities introduce your preschooler to the fundamentals of logic and critical thinking. They learn all of the academic basics needed for a successful school start.
Fun Extracurriculars Develop New Skills
From yoga to Spanish, music, dance, and art, your child gets creative and learns how to express themselves better. Baseball, hockey, basketball, tennis, football, and track and field are also available for a nominal fee.
Patient Teachers Are Also Passionate About Education
Your preschooler's teachers are truly dedicated to what they do and treat each child with warmth, respect, and empathy. Many have over a decade of experience and have worked with students from a variety of cultural backgrounds.
Wide Variety Of Interactive Exciting Indoor Amenities
When they're not busy in the classroom, your child can stay active in a full-sized indoor gym, read quietly in a library, and practice their typing skills in an on-site computer lab. They'll never be at a loss for what to do!
Twice Daily Outdoor Play On Soft Turf
Agility and coordination are developed with fun in the fresh air for up to 45 minutes, twice a day. Flooring is made of turf to prevent splinters, and your preschooler chooses from play structures, a basketball court, a mini garden, and more.
Proven Measures To Keep Your Little One Safe
Your preschooler is always secure in our care, thanks to doors that require keycodes, a fully fenced in yard, and the use of CCTV cameras. They scan in each day with a biometric handprint to help us track their whereabouts.
Hear What Parents Have To Say...
"They care alot about the kids"
Windhaven Academy has been a big part in my family with my daughter Alyssa. They care alot about the kids and their families. With all that is happening they took time to take extra precautions when it came to the kids safety and to even check up on us to make sure we are doing OK. I appreciate all they do for my daughter and would highly recommend them to family and friends.
"My kid absolutely loves his teachers."
Definitely recommend this school to anyone looking for quality care for your children. The new ownership has turned this school from good to GREAT. We learned so much about all the improvements and things in store during our insightful tour of the facility. My kid absolutely loves his teachers. They have a great app that keeps me updated on my child throughout the day.
"She absolutely loved going there."
My daughter went to Windhaven academy for a few weeks and instantly we noticed her growth. She learned so much within a short period of time! She absolutely loved going there. Everyone was so nice and professional. Also getting to see pictures throughout the day, knowing what type of schedule she was on, and also what she was eating definitely put mom and dad at ease.
"I would recommend this daycare to anyone!"
We love this daycare for our Daughter. We felt so welcomed from the first day we came to Register. The location, the space, the food, and the personal are amazing. I would recommend this daycare to anyone. Our baby had never been in daycare before, and now loves it here. She was able to adapt within few days.
"I feel like I am right there with her! "
I am forever grateful that I found this wonderful daycare. When I pick up and drop off my sweetheart, I know she is in good hands. She is learning a lot and having so much fun. I am kept informed with thorough note taking through the app and so many pictures, I feel like I am right there with her! Windhaven Academy has the same values and goals for my daughter.
"they really care and it shows"
Hands down best school I've ever worked for! Yes employees can write reviews too! lol Mrs. Assia and Mrs. Tamara are awesome, they really care and it shows. Their attentiveness and love are what makes this school thrive and stand out from all the rest, among many other things!! You won't find a better school. We have such an amazing group of staff members.
"Food menu is healthy and organic!"
I can not say enough good things about Windhaven. This is an extremely clean and well structured learning center for kids. The owner Ms. Assia is very responsible and nice. She gives each child personal attention. They have a structured schedule and activities planned for each day. Their food menu is healthy and organic. Highly recommend it!
"Healthy and nutritious foods"
Windhaven Academy is a wonderful daycare with exceptional management, who have poured their hearts into ensuring that the students have caring teachers and a bright, beautiful environment in which to learn and grow. They have thoughtfully curated a menu that includes healthy and nutritious foods, with little to no added sugars. It is also amazing to receive regular updates.
"The staff was very kind and were willing to work with us"
Very appreciative for the time our boys were at Windhaven. The staff was very kind and were willing to work with us in a variety of ways. The organic and healthy meals were also a nice bonus for us. We weren't there long due to COVID, but are thankful for the time they were there!
"Windhaven Academy is like family taking care of family!"
I have known the owners for many years and the family culture and enthusiastic environment is a blessing. Finding a school where you are trustIng to watch over the youngest members of your tribe is an overwhelming responsibility at times. Windhaven Academy is like family taking care of family. Definitely recommend!
"My children absolutely love!"
Windhaven Academy is the true meaning of childCARE. They are so kind and truly care about all of the children that come through their doors. My children absolutely love Windhaven and the staff is not only caring, but dedicated to building the young minds of our future. I could not have picked a greater place for my children to grow and learn. We are so grateful for Windhaven Academy.
"The entire staff is absolutely amazing and so easy to communicate!"
My daughter's face lights up when she sees her teacher Ms Brianna. She does an amazing job at watching after her and keeping us updated all day on the activities they are doing. The entire staff is absolutely amazing and so easy to communicate with..
Highly recommend 😃
Immerse Your Child Up In A World Of
Learning And Play!